Brock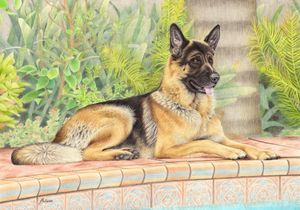 BROCK
My heart dog, Remembered with love always
14/3/2006 - 8/1/2010  
Shephaven Brock  'A' 'Z'
CH Oakway Quiz Master x der Ingolsta Xamba
Brock is a Multi class winner and Multi Ex Graded


Brock's critique from Glynis Appleby (U.K) reads:
22 Month black and rick gold large strong substantial male of good type. Overall good proportions. Very good masculine head and expression. Normal wither, firm back, good length and lay of the croup. Good well angled strong hindquarters with good length of second thigh. Good underchest. Upper arm somewhat steep but good length. Good feet and pasterns. Stands correct both ways. Moves correct both ways. Runs enthusiastically showing good reach and drive.
For Brock's pedigree click here