Choosing your puppy
Why We Choose Your Puppy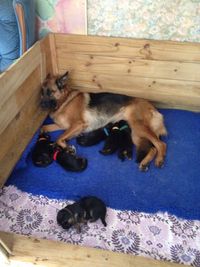 Whether sold as a "pet" or as a "show/breeding prospect" your puppy has been bred from the best breeding stock available and is a product of a great deal of care, research, hard work and love. He/she is a good representative of the breed and is structurally and temperamentally sound. Your puppy is suited to be a wonderful companion for obedience, agility or therapy work. He/she has received lots of care and socialization from us. We are very proud of the puppies we produce! Our hope is that you enjoy your puppy as much as we enjoy your puppy's parents. When this happens then we have fulfilled a large part of our goals as breeders.
Most experienced breeders will choose the puppy you get, instead of letting you make the choice. This is NOT because you are getting the "last pick" (which many people worry about), or because we don't care about what you want. It is because we care a great deal that you get the kind of puppy that will make you happy, and that each puppy goes into the right kind of home for that particular puppy, that we make the choice. Years of experience and the time spent watching them grow up gives us a much better chance of matching puppies to the proper homes. If you want a very quiet puppy, you might visit on the one day that the quietest one is being a terror. Or if you want an extremely "spunky" puppy, you might visit on the one day that the feistiest little munchkin in taking a loooooong snooze or has a belly full of breakfast. I know it's hard, but try to trust us! Tell us as much as you can about what you want and your lifestyle, and let us do the best we can in choosing the right puppy for you. Our potential families have always been happy with the puppies we have chosen for them. If for some reason you don't like the puppy we've chosen for you, you are under no obligation whatsoever to take him/her home, and we'd prefer you didn't… No Hard Feelings, your being happy with our bundle of fur is of utmost importance to us.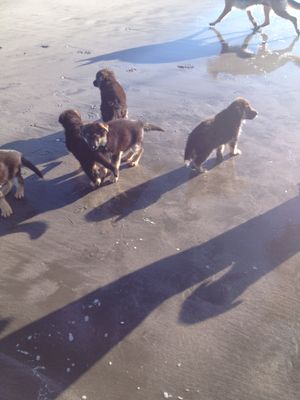 If we have a couple/three pups who we think are very much what you are looking for, then we are happy to let you choose from those pups. We are around the pups full time for those first 8 weeks of their life and we not only know their own individual personalities very well, we know the personalities of their extended families. Once we know what you are looking for we can help pick a puppy that will match you
"Pet Quality" vs. "Show Quality"
The differences between pet quality and show quality puppies are not usually obvious to the inexperienced eye. Sometimes there are no differences, as most breeders usually have more pet homes than show homes available for any given litter. And since the grading of puppies is an educated guess, even the very experienced eye is not infallible. Sometimes the difference is something about the bite, the way the puppy moves or stands, an angle of the shoulder blade that we feel in our hands, or that indefinable "something" that makes us guess/hope that "this one is a show puppy." And sometimes we're wrong! In any case, if we want to keep something for ourselves to show and/or breed, or if we have show homes available, we take our best shot at picking the best candidates for the job. The rest of the puppies are really the lucky ones! They are the ones that get to go home with you and lie on the sofa and play ball with the kids instead of working for a living. This is why I like to refer to pet dogs as companion dogs. That is there first and most important job…to be your companion, in your house and on your bed. They have received the same careful breeding and raising, usually look just the same, and sometimes when we see them six months or two years later we wish we'd kept them....... It makes us very proud to have our puppy buyers come back with beautiful dogs that fit the standard and are good representatives of the breed.