In Memory
Keybeau Honky Tonk Wom'n - Lyra
0404/2009 - 02/11/15

We Have A Secret 
We have a secret, you and I 
that no one else shall know, 
for who but I can see you lie 
each night in fire glow? 
And who but I can reach my hand 
before we go to bed 
and feel the living warmth of you 
and touch your silken head? 
And only I walk woodland paths 
and see ahead of me, 
your small form racing with the wind 
so young again, and free. 
And only I can see you swim 
in every brook I pass 
and when I call, no one but I 
can see the bending grass.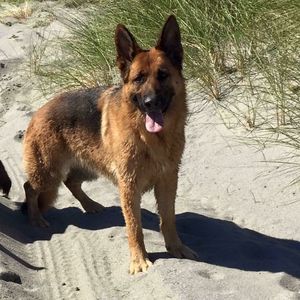 Shephaven Alexis - Zen


19/2/2005 - 16/12/2012
Don't think of her
as gone away-
her journey has just begun
life holds so many facets-
this earth is only one...
Just think of her as resting
from the sorrows and the tears
in a place of warmth and comfort
where there are no days and years.
Think how she must be wishing
that we could know today
how nothing but our sadness
can really pass away
And think of her as living
in the hearts of those she touched...
for nothing loved is ever lost-
and she was loved so much.
Missed so much by Adele and Family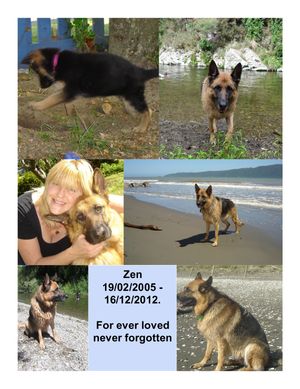 Shephaven Brock


14/3/2006 - 08/01/2010





I Haven't Left At All
I saw you gently weeping as you looked through photographs
You paused for just a moment at one that made you laugh.
But as you turned more pages the tears began to flow
You whispered that you missed me but I want you to know;
I softly licked those stinging tears that down your cheeks did fall
I want to help you understand I haven't left at all.
On those days that you are overcome with sorrow, pain and grief
I rest my head upon your leg to offer some relief.
When you take our walking path I've seen you turn around
Because I know you surely heard my paws upon the ground.
At night while you are sleeping I snuggle at your side
You stroke my fur as you touch that place where I used to lie.
You said it's just your heart playing tricks upon your mind
But rest assured I'm really there, my spirit's left behind.
I know your heart is hurting; it's like an open sore
You think my life has ended and you won't see me anymore.
But for those of us bound tight by love, death is not the curtain call;
It's really the eternal beginning that waits for us all
So, dear Master as you live your life I patiently await
For us to be together when you pass through Heaven's gate.
In Loving Memory
Brock.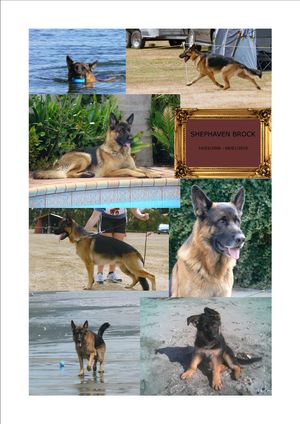 der Ingolsta Xamba.
07/03/2002 – 26/05/2007.
Sunlight streams through window pane unto a spot on the floor....
then I remember, it's where you used to lie, but now you are no more.
Our feet walk down a hall of carpet, and muted echoes sound....
then I remember, it's where your paws would joyously abound.
A voice is heard along the road, and up beyond the hill,
then I remember it can't be yours.... your golden voice is still.
But I'll take that vacant spot of floor and empty muted hall
and lay them with the absent voice and unused dish along the wall.
I'll wrap these treasured memorials in a blanket of my love
and keep them for my best friend until we meet above.
Our sweet loving Xamba you were my best friend
you had the most incredible and special bond with me.
You went so sudden but will never be forgotten and you live on in your fur kids.
Sleep well till we meet again over the rainbow bridge.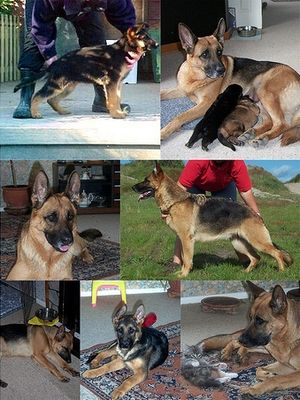 Clanrillon Ella (Kimba).
15/02/1995- 06/05/2003.
You were so gentle and were the one who showed my kids how much fun
dogs can be, you looked after them played with them and were their friend.
But you still only had eyes for me, my little shadow. Teaching me so much about
how to train dogs. We never got to say goodbye as you died alone, I wish I was there
with you, but a heart of gold stopped beating, two shining eyes at rest,
God broke our hearts to prove, He only takes the best. God knows you had to leave us,
but you did not go alone, for part of us went with you, the day He took you home.
To some you are forgotten, to others just part of the past, but to us who loved and lost you,
the memory will always last. See you over the rainbow bridge.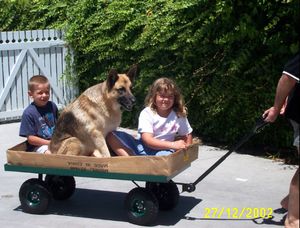 Clanrillon Ursa.
22/01/1984 – 19/2/1994.
Life will never be the same without you, you looked
after me as much as I looked after you, you helped me through
difficult times, we grew up together in many ways, and I miss you so much
I'm so sorry for the decision I had to make but you were in so much pain.
Sleep well baby I will see you again one day over the rainbow bridge.
Always remembered, forever loved by myself and the Jeffery Family.