Health Keeping puppy healthy
 
Puppies are totally dependent on you to provide for their health and well-being to grow into healthy adult dogs.
A proper diet, Puppy school, flea & worm treatment and desexing are issues you need to know about. Your best allies are your breeder and your veterinarian who will be happy to give you advice on all aspects of your puppy's health.
 


In order to make sure that any puppy we produce is healthy we do health screening on all our adult dogs prior to breeding. This is to ensure that they do not pass on any negative genetic illnesses to future offspring. Many breeders claim that they health test, make sure that you get copies of the test results. We do not breed any of our dogs until they pass all tests, NO EXCEPTIONS. The health tests that we do include hip testing for hip dysplacia, elbow testing for elbow dysplaysia,  DNA testing for DM (Degenerative Myelopathy) Along with genetic screening we feed only the highest quality food and provide the pups and dogs with adequate exercise.  We want to ensure that our dogs live the longest healthiest lives possible. We spend over $1000 to health test each of our adult dogs BEFORE breeding them so that we can insure that the future generations, along with your puppy, IS HEALTHY!
 
 
WORMING
 At Shephaven  Your puppy has been wormed at  2, 4, 6 and 8 weeks pyrantel pamoate. 
our adults are wormed with Endoguard.  
Regular worming is essential to make sure your pet enjoys the best of health - and it's easy to do!
 
FLEAS
Your puppy has been shampooed with a mild flea shampoo before leaving we don't recommend harsh chemicals on  puppies little system. Here at shephaven we use on our older dogs nexguard or advantageon our dogs.
 
 
VACCINATION
 
Our puppies are given a single Distemper and Parvovirus vaccination at 8 weeks of age.. Additional vaccinations will be required over the subsequent weeks after the puppies go to their new homes in order to complete the puppy series and ensure long term immunity. For the overall health of the dogs, we use and recommend Dr Jean Dodds minimal vaccination protocol. This means not stressing out the dogs immune system by administering unnecessary vaccinations, or vaccinating more frequently than is necessary to ensure immunity.
I try to do everything as natural as possible.  I do not vaccinate my dogs yearly, they do not need to be. If you give the correct puppy vaccinations and then again at a year of age, most dogs do not need to be vaccinated for three or more years there after, at the earliest. In the recent years it has been proven time and time again that more harm has been caused by frequent vaccinations then good, and the dogs actually have lower immune systems when they are over vaccinated and more chance of cancer in the site.  I do not vaccinate for kennel cough.  Kennel cough is a canine cold and there are 400+ strains of it. Chances are the vaccination will not even protect them.  I have yet to have kennel cough become lethal where the dog could not fight it off in a day or two. I strongly believe that a dog that is fed well and gets exercise will be able to easily fight off little things like a doggy cold.
 

EXERCISE
The puppy is only very young and will not require much exercise, just allowed to play and rest when he wants to. He is too young to go on walks for the first 4 months, as it places too much stress on growing bones and joints. After the puppy reaches 16 weeks of age, he can go on short walks of approximately 5 minutes duration, around the block or to the local shops, school or park.
After the age of 6 months, the puppy can generally be walked more often & slightly longer periods, but must be allowed to rest when tired.
Up to twelve months of age, natural free running is the best form of exercise for a youngster, for a young pup, upon tiring, can easily stop when they wish, and not keep on performing because they wish to please and keep up with you!
Of course you will wish to lead train and socialise your puppy, but exercise on lead should be no more than that. Maximum time walking (the dog at a fast trot) of a puppy up to six months of age should be barely five minutes at one instance (equivalent to a short stroll around your local block or park) and then rest. Puppies need plenty of rest and sleep, just like a young toddler.
Certainly they can play and romp in your back yard or in their kennel run, but they will stop when they feel tired, rest and then play again.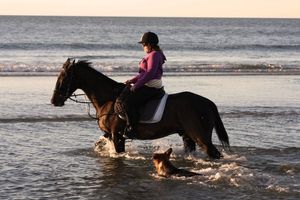 Moderation and common sense are the guidelines. Allow your puppy to grow steadily and slowly, and the fun of having a companion with which you can run your kilometres (upon adulthood of the dog) will not be impaired by the damage you may do by doing too much, too soon.
 
 
Enjoy your puppy's first twelve months as a friend, and savour a lifetime with a fit and healthy adult.
In most cases, when the puppy is 12 months of age, he can walk and run as often as you like for longer distances, as he will have achieved his final skeletal growth, and will be starting to develop muscle. Prior to this the puppy has not had enough muscle to support the bones and joints, so walking and exercise should be moderate
 
.

Swimming is a part of our dog's exercise regime.
All dogs swim by instinct. How much they enjoy this form of exercise depends on how confident the dog is in the water. With some dogs it takes some time to build up their confidence, but others take to swimming like a 'duck to water'.
Swimming helps to improve stamina, muscle tone & fitness.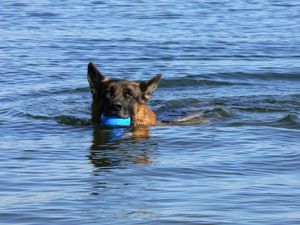 Swimming is an excellent form of exercise because most of the muscles normally used in movement are involved without the stresses caused by running on hard ground.
The natural buoyancy of the water and the fact that sudden twists, stops and falls are impossible makes hydrotherapy a safe and effective form of exercise for dogs.

We send a Puppy Fitness Exercise Guidelines Booklet  home with all our puppies in the puppy packet