Welcome
Welcome to Shephaven Kennels, located in Whakatane in the sunny Bay of Plenty, New Zealand. At shephaven our dogs are our pets first, breeders second. Our dogs live in the house as much-loved members of our family. We have had shepherds since 1993, and bred our first  litter in 2005. Concentrating on temperament, health, trainability, and beauty with working ability. We are very proud of the puppies we breed and keep the best interest of our dogs first and foremost at all times.We strive to raise healthy, well-adjusted beautiful babies of this marvelous breed that will mature into awesome family members. We care about our dogs and their future. We health test all our breeding stock and know the history behind them, not just the sire and dam. From selective and careful breeding we endeavor to offer you pups that will excel at any discipline, show, obedience, tracking, agility, working and/or companion quality puppies that you will enjoy for a lifetime.
We stand behind every puppy offering lifetime support to new owners.
HOME OF THE BRONZE MEDAL SC BITCH WINNER 2017. KEYBEAU HOOZMEDAD - ORKA 
Orka with the gold and silver medal winners                                          Orka with Stephanie  her bronze medal handler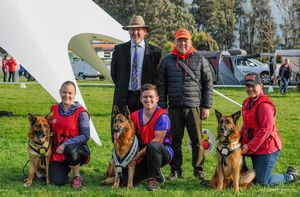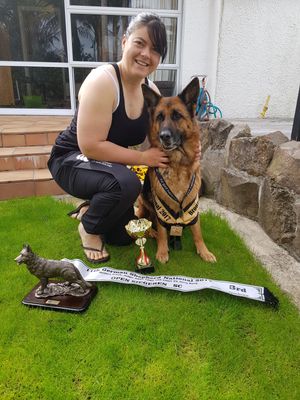 KEYBEAU HOOZMEDAD (ORKA) 'A''Z' BSCL 1. IS A MULTI IN SHOW WINNER, MUTLI EXCELLENT GRADED & NOW Multi GOLD MEDAL WINNER AND MULTI BEST IN SHOW WINNER.  Bronze Medal Winner SC bitch 2017
NZCh SHEPHAVEN DRAMA QUEEN (SENNA) 'A''Z' BSCL 1. DM Clear.  MULTI  CLASS WINNER.  2015 NZ NATIONAL CLASS WINNER LSC PUPPY BITCH. MULTI GOLD MEDAL WINNER AND BEST OF BREED WINNER. MULTI VGS GRADED.  MULTI EX GRADED. IN SHOW WINNER.  
 
SHEPHAVEN EUROPEAN BLEND (COOPER)  Multi IN SHOW WINNER MULTI VP GRADED. 2015 NZ NATIONAL CLASS WINNER LSC NZ BRED DOG 2017. GRADED VGS. BEST OF BREED WINNER.
I proudly raise my litters using Jane Killion's Puppy Culture program, and highly recommend the DVD for all dog owners.
You are visitor number: 81721